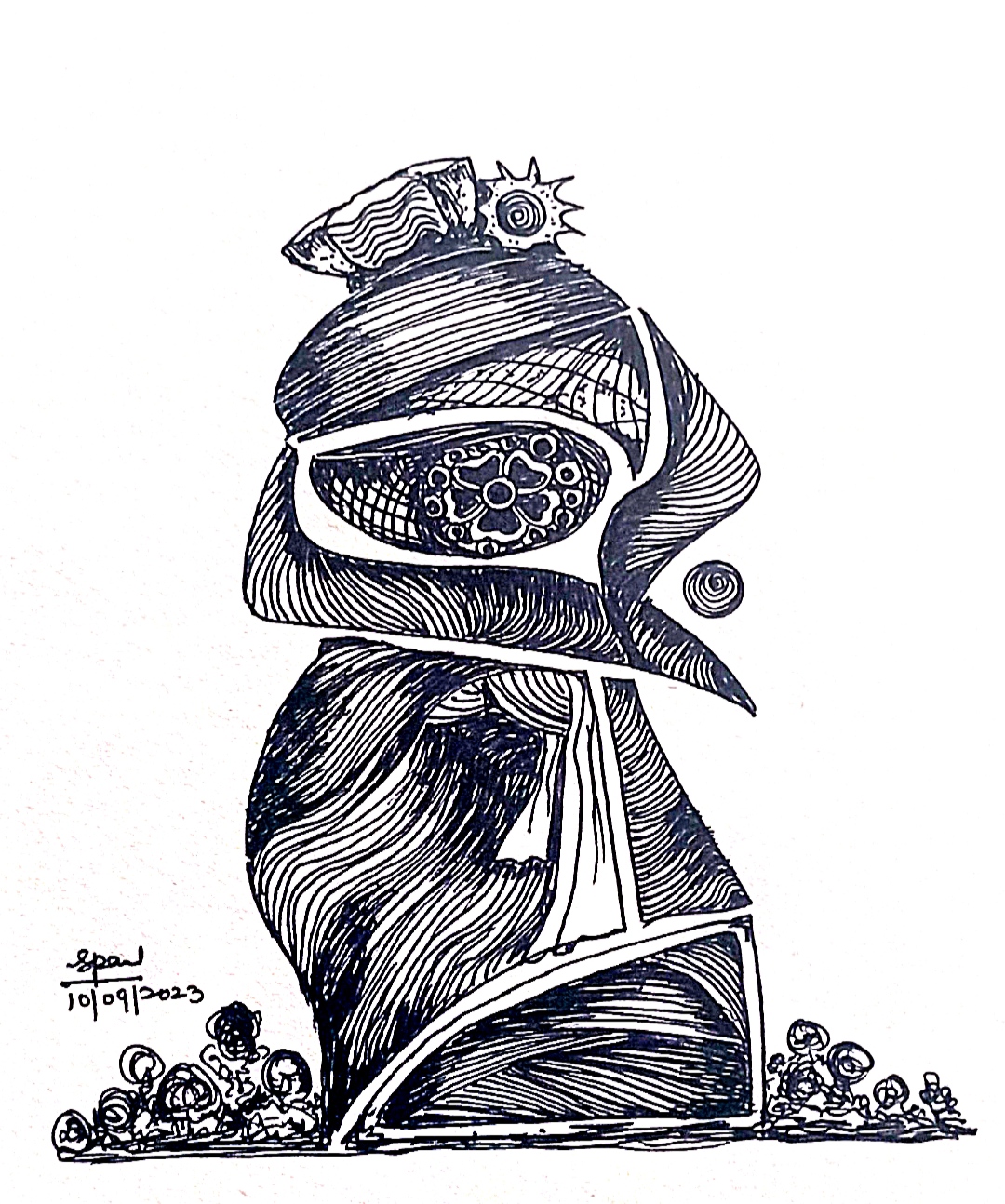 In The Name Of Poetry
Mahadevi Verma (1907-1987)
Born in 1907 in Farrukhabad,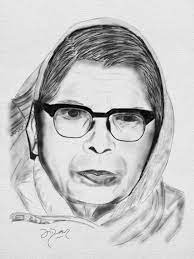 Uttar Pradesh,Mahadevi Varma emerged as a prominent Hindi poet of the twentieth century.She obtained her primary education from Indore and pursued further academic interests in Prayag. During the period of national crisis, she assumed a pivotal role as a humanist writer, activist, and informed citizen. Varma was an exceptionally gifted Indian poet of the early twentieth century who, with her profound awareness of the "human predicament" and the "feminine poetic consciousness," left an indelible imprint on Indian literature.
Often referred to as "Modern-day Meera" for her mystical, ethereal style and preoccupation with sordid and spiritual themes, her poetry has been greatly cherished for its exquisite lyrical charm, gender insights, as well as profound existential awareness.Amongst the very few female writers of her generation, she is the foremost voice devoted to giving adequate response to questions of 'silence', 'alienation', 'oppression' and 'erasure' of women and other marginalized people through her sensitive portrayal of the same. Apparently, despite being positioned within the patriarchal androcentric structures, she was able to resist the prevalent norms and could amplify women's voices, their concerns pertaining to their desires, needs, emotions, and rights for freedom and self-development in a newly sovereign yet evolving society where wome's experiences were traditionally ignored and obliterated. Her life choices, decision to forego her child marriage, renunciation of her role of a wife, the decision to write in Khari Boli, and refusal to be cowed down by dominant male writers' preference of theme, language, and style, and her resolve to dedicate her entire life to the country as a social activist, distinguished educationist, and pioneering force in women's emancipation from long-held servitude- all exemplify her nonconventional radical side to readers. Her writings clearly bring out her obvious displeasure towards women's subjectification and subordination and clearly demand the re-articulation of women's roles and their subjectivity. Shrinkhala Ki Kadiyan, (1943;Links In The Chain)Path Ke Saathi, (1956; Fellow Travellers), Smriti Ki Rekhayein, (1943; Pilgrimage to the Himalayas, and Other Silhouettes From Memory), and Mera Parivaar, (1971; My Family) are a few of her notable works that attest to her reputation as a renowned author among astute readers. Rooted in the indigenous cultural, philosophical, and literary critical traditions she became an important literary role model for many to follow. The loneliness of a "gendered subject" and the struggle for individual rights were recurring themes in her works, that were previously overlooked, and even rejected by the mainstream literary canon. A prolific writer and a dedicated academic, Mahadevi received numerous accolades throughout her career, including a fellowship at the esteemed Sahitya Akademi in 1979, the Padma Bhushan award in 1956, the Gyanpeeth award in 1982, and the Padma Vibhushan award in 1988. Her engagement with the pain and 'angst' of the afflicted humanity makes a powerful statement on the exclusionary politics, discriminatory attitudes, and apathetic behavior of the hegemonic forces towards the powerless and the ignorant. She defies constraints imposed by society on "a thinking woman" and, through the sheer force of her words, captures the conflict between the individual and society and combines the inner and outer quest of self-discovery with relative ease and simplicity. It is the aesthetic, spiritual, eco critical dimensions of her poetry that initiate readers into an enquiry of their own existence and the world surrounding them. In the Preface to Yama, she discusses her perception of sorrow by stating, "Sorrow is such a poetry of my intimate life that has the power to bind the entire world together with a single thread.Our innumerable joys may not even bring us to the first step of humanity, but not a single tear can fall without sweetening and nourishing our lives. Man wants to experience pleasure alone, but he wants to share his sorrow with everyone – his life in worldly life, his suffering in world pain – in the same way that a drop of water gets mixed with the ocean,is the poet's salvation.I admire both kinds of sorrow: the one that binds the sensitive heart of man to the entire world in an unbreakable bond, and the other, which is the cry of an infinite consciousness bound by time and space." (p.12) Her poetry, by exploring the complexities of human emotions and interpersonal relationships, moves and stirs readers by providing a distinctive worldview and emotional awareness. Varma's poetic voice remained strong and unwavering throughout the age she lived and beyond, establishing her as a true literary icon of Indian literature despite her solitary yet socially significant and influential existence.Varma's poetry was to a large extent shaped by her personal experiences, her cultural intellectual background, the political environment of the country,the social realities of those times and her early awareness of the Buddhist doctrine of "dukkha" (sorrow or suffering) as the ultimate reality of all earthly existence. Her writings not only celebrated the grandeur of nature and the resilience of the human spirit, but also acknowledged the melancholy that individuals experience when subjected to the strain of coercive forces in society. Even during her lifetime, she had attained eminence as a Hindi poetess, academician, artist, essayist, and fiction writer with immense contributions to the growth and popularity of the Chhayavad Movement in Literature. Born into a traditional family, she went on to receive sound education from her erudite parents and grandparents, as well as from the renowned thinkers, reformers and freedom fighters of previous generation. Her impeccable knowledge of the literary canons of Hindi, English, and Sanskrit, in tandem with her proficiency in the dialects of Hindi and exposure to the popular literature, as well as the region's rich folk traditions, enabled her to showcase an exceptional poetic prowess through her poignant and emotive writings.The following statement from her book titled, Path ke Saathi (Fellow Travellers) brings out her appreciation for different cultures and traditions. Despite growing up in a wide and heterogeneous milieu in terms of literary, linguistic, religious, and ideological influences, she realized her philosophy relatively early in life. "The perspective on life afforded by such a diverse, yet harmonious, environment has made humans more valuable to me.I believe that the barriers that separate the world's religions are fictitious, a product of man's inflated sense of self-importance. The only way to obtain the truth is to erase those lines." (7) Despite her mysticism,spirituality, compassion, and musical sense, she had the audacity to confront the so-called hallowed borders of intimate/public, ethereal/ephemeral, woman/man, worldly/divine, tradition/modernity, and so on. She was even regarded as one of the four major pillars of Chhayawadi movement in Hindi Literature.Poetry written by Mahadevi is the crowning achievement of Hindi literature; it exemplifies the profound poetic experience and idealism of the pre-independence era, which it truly represents. Mahadevi Verma's poetry is both aesthetically pleasing and intellectually stimulating.The poems quite explicitly and implicitly deal with subjects like transcendence, divine longing, devotion, transience, permanence, sorrow, worldly entrapment, belonging, freedom,nationalism, grief, agony, separation, isolation, loss, and the transience of life, and the genesis of death and rebirth. Through a unique language experience, one is totally immersed in the universe of her writing. In her poetry, the individual and the collective struggle for survival become inextricably intertwined. She internalises the collective experiences of women in a patriarchal society and emerges as a survivor. In order to appreciate the musicality of Mahadevi's poetry, which is sonorous, spontaneous, and metaphorical, one must have some knowledge of the craft or technique of poetry and a keen ear. Her output was prodigious, and her compositions always exude melody and poetic emotion. To appreciate her poetry, one must be able to visualize the images of an Indian home and everyday life. Compassion for all beings is its foundation, and it elevates human suffering to such an exalted status that it almost appears primal and pleasurable. Reading her poetry is like embarking on a voyage that is both euphoric and empowering, as it celebrates not only the 'self' but also immortalizes our ordinary, ritualistic existence. Although Mahadevi Varma faced criticism for her avowed expression of sorrow, she was still hailed as the finest singer in whose work perceptive readers could hear "the still, sad music of humanity(Wordsworth)." Her poetry is an affirmation of the belief that our most poignant melodies often stem from our most profound grief, as observed by P.B. Shelley, "Our sweetest songs are those that tell of saddest thought."
Introduction by Shubha Dwivedi
Mahadevi Verma's Poems in English Translation
If Only You Arrived Once…
If only you arrived once!
How much compassion, what sentiments
Would be sprewned as pollen on the path;
Each chord of my being would pulsate with
Affectionate and frenzied melody;
Those feet will be cleansed with tears!
Moist eyes would burst into laughter at any moment
Sadness would be washed away from the lips,
Spring would usher in life,
The forever-accumulated reclusiveness would get plundered,
These eyes would have sacrificed everything,
If once you would have arrived!
Those Cheerful Blooms
Those cheerful blooms,
Which never learnt to wilt;
Those star-lit lanterns,
Which don't like to wane.
Those desolate eyes,
Where tears don't crystallize into pearls;
That soul's abode
Where suffering doesn't slumber aimlessly.
Those sapphire-like clouds
Which don't intend to dissolve;
That eternal spring,
Which doesn't wish to leave.
This is your world,
Devoid of suffering or despair;
One that doesn't know to burn,
Nor ever tasted oblivion!
Will we be granted the realm of immortals,
as a gesture of your kindness?
"Let it be, oh Almighty!"
"My right to be erased!"
My body as Sunshine
With my body as sunshine, I am like a luminous lamp!
This dispersed body drifts incessantly in a cloud of fragrant smoke,
Losing myself, my mind melting into ceaseless luminous breaths
A tearful moment of creation,
and close to immersion is bright horripilation,
coming unceasingly, obliterating my identity,
I am the one nearest and dearest!
As the mighty hurricane's dense cloud chariot moves forward,
Even if you arrive weary on the holocaust chariot carrying lightning,
Choosing the tender sweat particles along the way,
providing comfort to the restless spirits.
A pearl of affection in the sea of sorrow
Like an oyster, I shall produce!
With my body as sunshine, I am like a luminous lamp!
(Translated from Hindi by Shubha Dwivedi)