Who we are
EDITORS–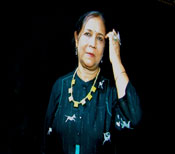 Rati Saxena – Poet/ Translator/ Editor (kritya) / Director Poetry festivals -kritya and Vedic scholar. She has  6 collections of poetry in Hindi and  three in English ( Translated by poet)  and one each book translated  in  to Malayalam, Italian, Estonian, and Serbian, Vietnamese , Spanish , Turkey and English translated by  other poets.  Her poems have been translated in other international languages like Chinese, Albanian,  Uzbek, Indonesian , German etc. She has three travelogues in Hindi a Memoir in English" Every thing is past tense ", and a criticism on the work of  famous Malayalam Poet Balamaniyamma's work. Her study on the Atharvaveda has been published as "The Seeds of the Mind- a fresh approach to the study of Atharvaveda" under the fellowship of the Indira Gandhi National Centre for Arts. She has translated about 15 Malayalam works, both prose and poetry, into Hindi and two poetry books of Norwegian poets , one each from Welsh, Vietnamese and serbarian languages. Her recent important work is research book in poetry therapy- A fist which opens – a poetry therapy from distant past to present future. She has a number of articles published regarding Indology in a number of journals. She has been invited for poetry reading in more than 36 prestigious poetry festivals around the world, among some are very popular e.g., The Struga Poetry Evening (Macedonia)( 2010) the prestigious poetry festival in Medellin -Colombia (2011 and 2014),, 10th Edition of " Ritratti di Poesia" Feb 2016 and China's Moon Festival and Shanghai book fair. She is the only Indian participant in some imp poetry festivals like Iran's Fajr Poetry Festival, Iran (2014) ,  International Istanbul Poetry Festival (IIPF) Turkey (2014), 4th international Eskisehir  Poetry Festival Turkey (2014). And a Special poetry reading in A Caruna , Spain ( 2015), Poetry reading at Foundation Vicente Risco, at Allariz ( Spain). She has also been invited to some American Universities like Mary Mount University in Los Angeles and University of Seattle ( USA) to talk on  Vedic poetry and recite her own poetry. Her poem was poem been chosen in popular book of china "110 modern poems of the world") 2015, " Her poem was also part of space mission by Jaxa, Japan, along with 24 other poems. In 2002 . She was also artist in Former Artist-in-residence at Ebenboeckhaus Munichand Artist-in-residence at Künstlerhaus Villa Waldberta and China_ a 600 hundred years old village
Her awards include a fellowship from the Indira Gandhi National Centre for Arts (2004-5), the Sahitya Akademi Award for Translation (2000), the State Bank of Travancore Award for Poetry (2001), Naji Naaman's Literary Prizes (International) for a complete work (2016), the DJS Translation Award for Chinese poetry (2018; DJS is the acronym in Chinese of Emily Dickinson's name) and special award in the first Crete International Poetry Festival for her poetry, 2019, the Rajasthan Patrika prize for best poem (2020),Poet of Year Award of 5th Boao International Poetry Award,Grand silver medal LIFFT -Euresia 2023, RAJASTHAN Sahitya Akedemi's highest award (Academy of letters) – Meera Puraskar 2023. 
She is founder and editor of the first bilingual web journal kritya, which started in 2005, and founder and festival director of kritya poetry festival which is active from 2005 onwards.
 She is one of the Founder member and    Asian Coordinator  Of the World Poetry Movement. Member of the journal's editorial board-Multilingual Journal of Literature and Opto-Art "WürZarT,"and Member of scientific board Canzoniere, an international book-cd series devoted to poetry with music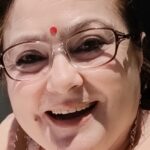 Dr Ranu Uniyal
Professor 
Department of English and Modern European Languages
Former Head (2019-2022)
Director, Institute of Women Studies, University of Lucknow (2015-2016)
Commonwealth Scholar, University of Hull, Kingston Upon Hull, UK        (1988-1992)
Board Member PYSSUM A centre for people with Special Needs (since 2005). 
pyssum.org
University of Lucknow
Lucknow, UP, India – 226007

Sarita Jenamani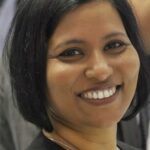 Sarita Jenamani is an Austria-based poet of Indian origin, a literary translator, anthologist, human rights activist and feminist. She is the editor of a bilingual magazine for migrant literature: Words & Worlds, and general secretary of PEN International's Austrian chapter. She has so far been published in three collections of poetry. Jenamani is the co-editor of the anthology Silence Between the Notes: a collection of partition poetry from South Asia. She has also edited the first-ever anthology of poetry on violence against women in South Asia: Still We Sing. Jenamani has translated several Austrian poets including, Rainer Maria Rilke, Georg Trakl, Rose Ausländer etc. into Hindi and Odia. She has received many literary fellowships in Germany and Austria including those of the prestigious organizations of 'Heinrich Böll Foundation' and 'Künstlerdorf Schöppingen'.
Rashi Rasheed is a trained engineer who joined Kritya in 2017.
Although a voracious reader she was introduced into poetry only recently. She has taken a liking towards it ever since.
Dr. Jamuna Bini-(North East Representative )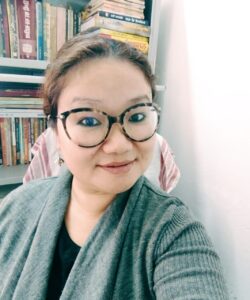 Jamuna Bini has written Criticism, Travelogues, Short Stories and Poetries. Her poems are included in the M. A. Curriculum of Allahabad University, Mizoram University and B. A. Curriculum of Indira Gandhi National Tribal University, Amarkantak (Madhya Pradesh). Her Short stories are taught in the B. A. Course of Siddhart University, Kapilvastu (Uttar Pradesh) and also in the NCERT Curriculum of Govt. School of Rajasthan.
Her works has been translated into many Indian languages including Santali, Assamese, Malayalam, Marathi, Telugu, Gujrati and in Foreign language Turkish also.
She has got many recognition across the country and abroad for her literary works.       
Currently she teaches at Hindi Department, Rajiv Gandhi University, Rono Hills, Doimukh ( Arunachal Pradesh). She can be contacted at jamunabini@gmail.com.
Our  Artists-
B.D.Dethan is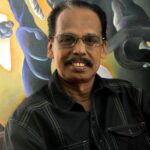 an Indian painter from the state of Kerala. A recipient of several awards and Kerala Lalithakala Akademi Fellowship 2007, he was a member of the executive committee of Kerala Lalithakala Akademi thrice. His paintings are featured in several private and public collections in India and abroad including, the National Gallery of Modern Art, New Delhi; Parliament House, New Delhi; Lalit Kala Akademi, New Delhi and Raj Bhavan, Thiruvananthapuram. The Government of Kerala awarded him Raja Ravi Varma Puraskaram for his achievements in the field of visual arts in 2019.
All logos are made by B.D.Dethan 
Sanju Paul
Sanju Paul is her pen name, original being Sanjeev Kumari Paul. She is a veterinarian by profession and a poet and an artist by passion. She belongs to Himachal Pradesh (India) and has been involved in multiple projects of literary, artistic as well as scientific temperaments ranging from very local to global ones. She has also developed an artistic technique of carved and washed paintings using discard PVC sheets as canvas and tooth pick paintings on canvas. Pen sketching is another art form she uses to express herself. In addition, she also has a short film named "Catharsis" and interview film "The Petrichor" to her credit. Presently she is involved with her art studio "Sanjupaul's Art Residence" along with her routine life.