Poetry in our Time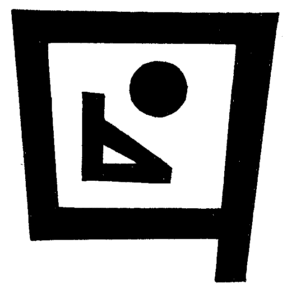 Vijayarajamallika
A Word to Mother
Son may turn out to be a daughter
And vice versa
A word to mother,
Accept your children
As they are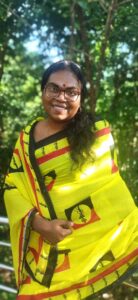 None other can play your role
As perfect you are!
New Born
New born is neither
Boy or Girl
It is only a baby
Where gendering is a hobby
Gift
Hey moon,
Did you see my gift
That blooming rainbow
That fickle river
As a daughter and son
I shall raise my gift
The tender bunch
That came to this land
With the jewel studded lamp
I will not call
'He' or 'she'
Let the decision
Be made by self
That shall never bother me
As the dear is
This Mom's garden…
Vijayarajamallika is a transgender poet who is deeply committed to exploring and representing the experiences of marginalized queer communities through her work. As an intersex writer, her poetry is heavily influenced by her identity and the heteronormative social system that shapes her experiences navigating the world. She often uses her work to question oppressive binary norms. Vijayarajamallika's poetry has been recognized with several awards and has been published in various literary journals and anthologies.
---
Hanzala Mojibi
the idea of a home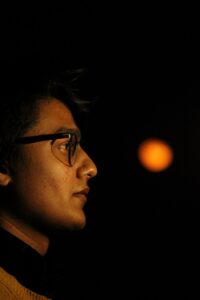 how long does it take to build a home?
i might ask the little girl,
who prances now in the Garden of Eden.
her blood has dried
as the angels laved her wounds
with honey milk.
she was stiff with fear when she got here,
her eyes rolled back in her sunken skull,
her fingers stretched out, reaching to
her mama, when they stopped moving.
there were cavities in her tiny body,
a shrapnel had torn through her left leg,
imprinted on it was the word
"tzahal".
how long does it take to build a home, child?
it is not counted in years, or hours.
it is, here, counted in the number of funerals
that each home has mourned and celebrated.
2. if i
if i die tonight
the ailing woman in my house
will mourn over me for a year.
the calls will ring in
till all lines are exhausted.
the biting opinions i have
over every political, social issue
will be shunned, lowered with
me;
the books on my wall, distributed.
i only expect my poetry,
just as biting but a little
didactic, to be remnant
in a decade's time.
by then the maggots
will have gone through my bones.
i will be a distant memory
who will come up in late
tea conversations as an aftertaste.
if i die tonight,
i will be buried by tomorrow.
save a few,
i will be forgotten the next morrow.
let me not in the belly
of this earth till
I AM DONE.
i will die when i do.
3. upon chancing myself at a wedding with a broken heart
loss in Love is
like the aftermath of a
north indian wedding.
jarring silence.
the workers, at their own
pace, run brooms across
the dirty veranda.
a bitter aftertaste remains
in the air of the disunion.
two people, uninterested,
take off the redundant fairy lights
in the morning sun
as chacha, equally uninterested,
drinks his herbal tea.
crows eat at leftovers
strewn about on the terrace.
the people who were gossiping
yesterday are sound asleep
yet there is an uncanny
feeling of dilapidation.
lost Love, like the aftermath
of a north indian wedding,
is a feeling of emptiness;
tiredness;
and residues of what once was.
Hanzala Mojibi is a poet and writer from a literary background. He believes in some serious things like voicing the voiceless; and some non-serious things like the crunching of dead leaves healing the soul. You can find him strolling under Peepals in Delhi winters.
---
Suchita Parikh-Mundul
After a decade
The everyday we share
is hidden behind clouds
whose fibre has other benefits too.
For instance, when twisted into rope,
it ties us at either end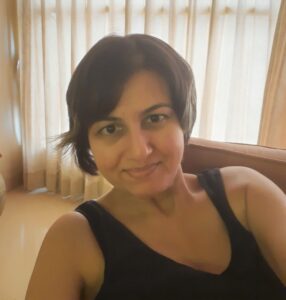 so we're attached and yet apart.
Us and we, the short breath
of shadows,
mirroring, sliding
off wall, bed,
together and separate.
This is our evolution,
the property we become,
dissipating every night,
condensing each morning.
We ride
this seesaw
of love,
this flux
of life.
A kiss
is like a bowler releasing the ball
with every muscle in motion
and the batter turning taut
with opposing energy,
meeting it with a terrific force
that sounds like hands clapping
or magnets fusing as one.
Suchita Parikh-Mundul is a writer and copy editor. Her poems have appeared in literary magazines like Gulmohur Quarterly, Narrow Road, The Bombay Literary Magazine, Yugen Quest Review, Outlook India, Muse India, Sahitya Akademi's Indian Literature, and anthologies such as Amity: peace poems (ed. Sahana Ahmed, Hawakal, 2022), The Well-Earned (ed. Kiriti Sengupta, Hawakal, 2022), and international compilations. Her articles have appeared in print magazines as well as websites.
—————————————————————-
Natalie Bisso
YOU'RE IN ORANGE
The rays are blurring on the water
On a summer day in love,
Reflected on people's faces
Bright chiaroscuro.
All the words will be lost in the crowd,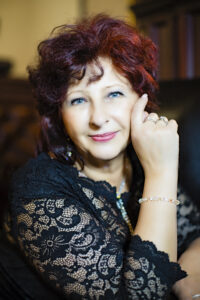 Like a crane in the reeds,
And it looks like fate is right, after all,
If the soul shines.
Tomorrow the wind will scatter the heat
Through the alleys of dreams,
It will be difficult for us to collect in the morning,
What the wind took away.
The fuss freezes around,
We are walking under the sun,
You're in orange, like a dream,
We're good together.
——————————————————————-
The steppe
How beautiful the steppe is
Poppy, grasshopper and wormwood-grass,
She has all the beauty and strength,
In my living steppe.
Where the eternal wind walks,
The oppression of dodolu was hobbled,
Then stubborn, and then friendly,
Stroking the grass near the ground.
Scattered with red beads
Markov kumachovy paradise,
The air is saturated with the smell,
This is my favourite region.
You will go out into the field at dawn,
The pre – early silence will captivate,
With a quiet sigh , the sleepy wind
Gently cools the skin.
A swarm of bees is dozing in the hives,
Bird chatter in the distance,
The first ray kisses the grass,
A dewdrop sleeps in a cornflower.
And such a feeling of happiness,
Unspent love,
As if horses are racing in thoughts,
As if life is all ahead!
SIMPLY
It's just, I miss you…
the warm evening smells like lilac,
And invitingly meeting lovers,
The Nightingale croon will grasp,
May evening, spring without being embarrassed.
May evening and a branch of lilac,
We inhale the scenes of flowers,
You lightly touched my knees,
And a hot desire embraced,
There are shadows on the green grass.
Your touches are so welcome.
I'm just going into the pool with my head,
Just, I can hear your breathing.
It turned out to be my fate,
Then, in love with me, your confession.
It's just that I miss you,
Every hour without you is no joy to me,
I'm drawing our meeting in my dreams,
And I hide a careless weakness,
Letting go into the hustle and bustle of the city.
LIKE A MAGNET
I'm drawn to you, just, drawn to you and that's it,
The soul is hooked and carries with it into the pool,
It's just that your clear eyes are so deep,
Like the green waters of an underground river.
I'm drawn to you like a bird in high flight,
Comets burn up when this bird sings with happiness,
Whirlwinds of desires and terrible longing sweep by,
But you're far away and I can't shake hands.
But it pulls me to you, I can't overcome the cravings,
Torments the night in a dream with a restless bird,
I'm just angry about these eternal, strange dreams,
They are irrelevant, they are like seconds, cramped.
I'm just infuriated by those people from my dreams,
Where time and life are given to us one for two,
Where the sky scattered amber granules,
Where all the planets revolve around the lantern.
Where the rest of the dawn is squeezed into the cold black sky,
Where the wandering call and the screams of the Earth hang,
As if I am a cat – seven lives and meekness myself,
And I'm making my way through the stars to your chambers.
And I will touch gentle softness, weakness of paws,
I'll lie down closer so that you won't weaken without me,
I'll bury my face in your chin, humming poems to you,
About heaven, about eternity, about our sins with you.
I will appear to you as a fallen angel or a ray of the sun,
And I will open my heart with my secret key,
I will ascend, like a goddess, to the throne from your clouds,
I will be gentle and light, like a veil of petals.
I will bring out a rainbow in the sky and become a colored strip,
I will immerse the entire space of the universe in time pressure and peace,
I will rise like the sun, I will sound like a verdict in the hall,
I'm just drawn to you… drawn to you like a magnet.
NATALIE BISSO is a poet, novelist, essayist and songwriter. Author of 11 author's books. The poems have been translated into 37 languages of the world. Honorary figure of world literature and art. Academician MARLEY; MARS; MANI; member of the jury of international competitions; head of the German branch of SPSA, founder of LAST, holder of state orders and medals, the title of "Golden Feather", the title of MAESTRO, the title of MASTER of POETRY.